Happy Monday everyone! I hope May is going well and that the weather is warming up if you're in summer time 🙂 today is the bit delayed April wrap up and TBR for this month. April was a weird one again. Recently, I'm having a bit of a burn out with reading/reading deadlines and also blogging. I have a post coming up this week about it, but for now, let's talk about the reading 😀 I read a total of 6 things in April, with all but 2 of them being ARCs. If you saw my April book haul, you know that my haul was bananas with all the approvals I got, which meant trying to crack down on it.
While I did have 2 five star reads at the beginning of the month, it kinda went downhill slightly until the last book that I read. Isn't it funny how sometimes a 5 star book can make you not like the other books you read? It totally happened with me and that's just me being weird. But here's all the stuff I read, DNF'd and hope to accomplish this month!
Total books: 6
ARCs: 4
Audio Books: 2
Personal Books: 0
April TBR Books completed: 1
Read from March 24th -April 2nd
Rating: 5 stars
Are we surprised that I loved this?
NOPE LOL
I loved this so much! I knew that I had high expectations going into this book, but rest assured, my expectations were matched. So, the basic idea of this book is in this world, libraries house dangerous grimoires. They're chained to the wall and if they're freed, they turn into nasty monsters. So librarians are armed with salt and weapons in case this happens. Elisabeth has grown up in one of the Great Libraries and wants to be a Librarian more than anything. But after a dangerous tome is freed and she destroys it, she becomes involved with the notorious sorcerer Nathaniel Thorn and uncovers that maybe sorcerers aren't evil. Can I say how I SHIP these two and NEED a movie of this?!
But yeah this book was pretty much perfect. Elisabeth is resourceful, fiery and the right balance of how learning how naive you are but also trying to fight for what's right. Nathaniel is majorly awesome sorcerer and I loved where Rogerson took his character arc as well. The hype for this book is worth it and can't recommend it enough!
Five Reasons to Read Sorcery of Thorns
Read on April 4th & 5th
Rating: ONE MILLION STARS! (5 stars)
I think THIS tops Sorcery of Thorns for my favorite book of the year?! The basic way to describe this book is it's "a Disney thriller story from hell" and it was AMAZING! We follow Ana is one of the seven princesses in The Kingdom theme park. She's accused of killing park employee Owen, but did she do it? I NEARLY refused sleep in order to finish this book but I did finish it within 24 hours and it was everything. This is told in interview footage, apps and normal prose as we explore the darker side of this theme park and what it means for Ana to be human.  This was also the only April TBR book I completed, so that's something right? The author creates a genuinely terrifying future world, but also a fantastic character in Ana as she discovers what she really wants. If there's ANY 2019 YA book you read, please let it be this one 🙂
Behold: The Kingdom! Five Reasons to Read
Listened to from April 13-17th
Rating: 3 stars
This is Sanderson's zany Middle Grade/YA series about a boy named Alcatraz who keeps breaking things. After getting a bag of sand for his inheritance from his parents, his grandpa shows up and basically tells him that the sand is important and that the evil librarians shouldn't use it to make special lenses. Disclaimer: if you are a Sanderson fan, go into this series with an open mind. If this will be your first book by him, know that it's silly for a reason. This book can throw people off, but I though it was fun! Alcatraz really pokes fun at writers and books in general which is hilarious. Also, the talents some characters have are so original and quite humorous. His grandpa is late to everything, one constantly trips, etc. The way they use these talents to fight the evil librarians is quite clever. It's not my favorite book by him, but if you like books/writers being poked at and seeing an author have fun with a story, this is a good popcorn type book. I'll be doing a full series review once I read all of them, so stay tuned when that comes out.
Read from April 16-19th
Rating: 2 stars
I was really bummed by this book! I love her debut novel Devils Unto Dust and while I'm glad to see how she makes a YA urban fantasy type book, this didn't work for me. Lexi can see how people died by touching them and she treats it as a curse. It makes her pesimisstic and isolated from everyone in her life. She is very sharp around the edges and while I understood that, she doesn't have any growth and wasn't a character I could really root for. I also felt like the way she wanted her love interest to be "sad, cruel and angry" like her felt a bit problematic. Then, I felt like they just sat around waiting for an answer to a question relating to the mystery which was weird. It felt like they were waiting for the answer and then they rushed to find the killer of Jane, the ghost that Lexi becomes attached to. I also kinda thought this should be an adult book, since the writing felt like it was an adult fantasy and the themes as well, but that's a personal preference. I don't recommend this one sadly.
Double ARC Review: Nocturna #1 & Missing, Presumed Dead
Listened from April 17-24th
Rating: 3.75 stars
This was an improvement on the first book! The sequel follows Alcatraz as he goes to find something in the Library of Alexandria, which was never destroyed. The book shows what I believe is the main story thread to come and I enjoyed that! I also liked learning more about the world Sanderson has created and Alcatraz really makes fun and messes with those people who look at the last page and it was hilarious! We also get introduced to more zany characters with abilities and the guardians in the library made me snicker. I also really enjoy the narrator for this series Ramón de Ocampo. He really has fun with the world and brings up the snark and parody factors the book presents. I'm very interested to see how the main story thread evolves from here.
Read from April 23rd-30th
Rating: 4 stars
I was very surprised by this book! I hadn't read anything by the author before this and hadn't seen any early reviews in the book community. But this revolves around Isabelle, one of the "ugly" stepsisters and her story after Cinderella goes away to marry the prince. It follows part of the Grimm's version of the tale in the beginning, which quite the opening to the story. But this is an important story about not listening to what other people say about you, taking a chance, your inner strength and what defines you. There were SO many lines or passages I highlighted on my Kindle because so much spoke to me. People can call us ugly for many reasons and sometimes, we listen and that is tragic. I loved seeing how Isabelle tries her hardest to be good and finding what she really wants. While the middle was a tiny bit slow, this is another 2019 release to read and spread the word about. Girls need tor a read a book like this to remember that they're not alone and that we're all human 🙂
Books I DNF'd
DNF @ 13%
I tried this as an audio book but this story isn't for me. The author was WAY too wordy with trying to act like a lush writer. I was annoyed to see how long it took to get to the point of what she was trying to say. I feel like this is a hard thing to do in books and some don't pull it off. While I love the idea of phoenix riders, the story didn't grab me and there was a moment of animal cruelty/abuse and I'm NOT about that. This a case to where the author didn't do enough in the beginning to keep me invested.
DNF for now at  32%
While I didn't hate the narrator, the pacing of this book didn't seem to work on audio for me. Sometimes the action or time transition got muddled an I'd have to back track to remember what's going on. It also started to feel stale with talking about the same things. So I will try a library copy eventually 🙂
DNF @ 20%
Yep, this was another disappointment for me! I've read a few books with a Latinx inspired world and they felt more well done than this one. I highly recommend checking out an own voices review from Angelica's review and she talks about how disappointed she was with this book. Not only was the world barely scratching the surface, it also feels like a A Darker Shade of Magic rip off. I know that books can be similar to another one, but this was riding that line way too much. Many things felt repeated in the 20% that I read and the author didn't do enough to keep me reading. Many reviewers have said that the first 30% or so is hard to read because the story doesn't pick up until then. It can work for some books, but not for this one. You can see my review of this book along with Missing, Presumed Dead that I mentioned above.
Currently Reading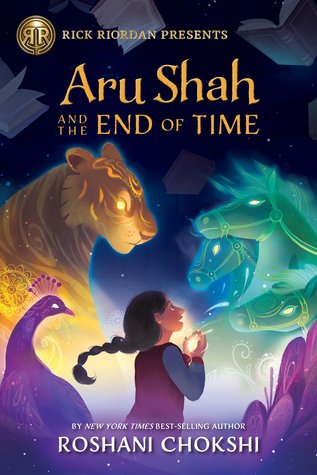 Right now, I got The Bone Charmer for a blog tour and you'll know my thoughts soon! Then to switch things up, I started the library audio book for Aru Shah and the End of Time since I'm hoping a middle grade can break my dumb audio book slump. So far, the sassy pigeon nicknamed Boo is everything and I'm really enjoying it 🙂
May TBR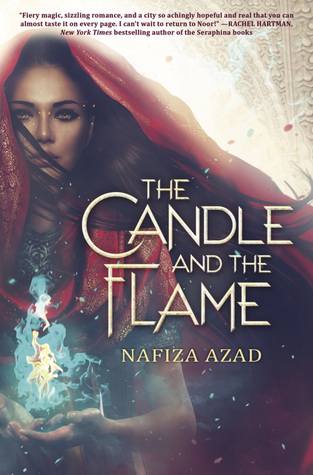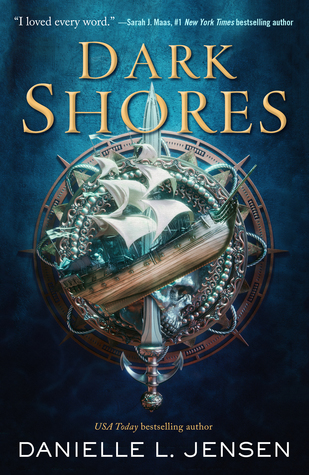 I'm pretty much narrowing down my TBR for this month down these 4 things. The first 3 pictures are ARCs I have to read this month, since one comes out within the next week or so and the other two are June releases I want to stay on top of. Then I'm getting a library copy of Dark Shores this week and the reviews have been great so far! I think a good sea adventure type story would be nice to read during summer 🙂 Whatever else I read or listen to this month will hopefully just be what I feel like reading and that I don't that forcing myself to read that's been happening 🙂
What did you read in April? Did read any of these books? What are your reading plans for May? Let me know in the comments!