Happy Monday all! I hope your weekend was great 🙂 It's time for another currently reading post and MAN my reading has been suffering a bit lol. I've DNF'd 2 books this month and haven't really finished anything
But I'm trying to stay hopeful and really cross my fingers that these books will help me feel better and get out of this slump.
Currently Reading/Listening
Aru Shah and the End of Time #1 (Library audio book): I'm about 30%ish through this library audio book right now. It was available on Overdrive and wondered if a MG book would help. I've started to like her books more after loving The Gilded Wolves and while I don't think I'll love this quite as much as that one, it's still fun so far. Boo is a SASSY pigeon that I love to pieces and the humor is cute so far.
The Devouring Gray #1 (Library audio book): This was another audio book available on Overdrive and I started it the other night when I had a quiet house all to myself for the evening. I do admit that none of the characters are really that nice and I think everyone might be morally gray so far. But the concept of the founding families protecting this town from a beast called the Gray has potential. I've seen mixed reviews, but so far the narrator is good and it's an easy story to follow.
Spin the Dawn (The Blood of Stars #1) *NetGalley ARC*: After having bad luck with my last 2 reads, I decided it's time to finally start this one. I've had this ARC since January and I've been sitting on it for long enough. The blurb of this book is that it's Mulan meets Project Runway and not only is it a HIGHLY anticipated book but also some reviews on Twitter and GR from people I follow are stellar. So far the tiny bit I've read is easy to sink my teeth into which is something I really need right now.
What to Read Next?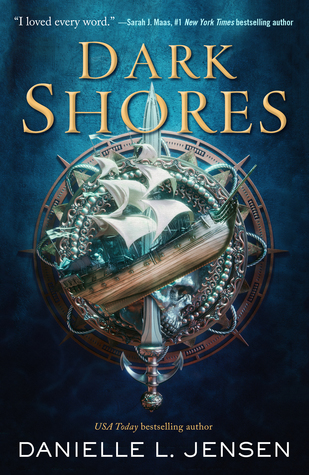 If things go well this week and I can get out of my reading funk, I will pick up my ARC of Stronger Than A Bronze Dragon since it comes out June 11th. Better safe than sorry when it comes to getting ARCs read. Then I also have both the library physical book and audio book for Dark Shores which released earlier this month. I've heard it's a really fun sea adventure story that's also inspired by Ancient Rome and I'm very optimistic that it'll be a fun ride 🙂
What are you currently reading? Have you read any of these or are you reading them as well? Let me know in the comments!