Happy Saturday everyone! We're now in the last half of the year and it's time to show the last list of my anticipated releases! I decided to throw July through December together, since some months only have 1 or 2 books and many more for other months (in the fall mainly). This is mostly a definitive list, but of course, we all know that books that slide under our radar can surprise us by the end of the year. So this mostly set in stone, although you never know what "under the radar" books will actually come onto my radar lol. I'm still separating these by the months they come out. All books have dates that are subject to change since publishing can change at any time. All dates are on Goodreads and release date are US dates. I also am not including ARCs I've already read that aren't released yet 🙂 I want to use this list to talk about books I haven't read yet but have a mighty need for.
JULY
The Merciful Crow #1 by Margaret Owen (Expected release date: July 30th from Henry Holt)
This is the only book for July that I'm highly anticipating. This is a debut novel about Fie, a future chieftain whose apart of a mercy killing crew. We also follow a fugitive prince Jasimir who faked his own death and makes Fie an offer she can't refuse: protect him from a ruthless queen and he will protect the Crows if he can reign as king. Finally, there's a hawk warrior named Jas who has always put the prince's life before his by assuming the prince's appearance and shadow at every step. The cover is SO freaking cool and I love supporting debut novels, so I hope this is a really fun book.
AUGUST
The Downstairs Girl by Stacey Lee (Expected release date: August 13th from Putnam)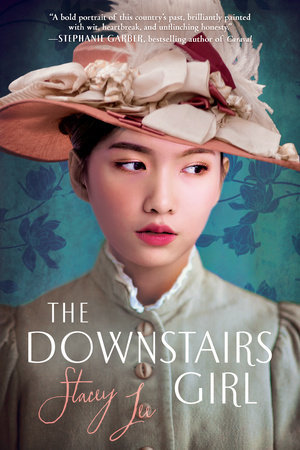 I haven't read anything by this author YET (I will fix this soon) but she is a very acclaimed YA historical fiction author. This new book is about Jo Kuan, who is a ladies maid for a cruel daughter of one of the wealthiest men in Atlanta. By night, Jo moonlights as an author under a pseudonym for an advice column for the genteel Southern lady "Dear Miss Sweetie." But she's not prepared for the backlash that happens as she writes about current issues about gender and equality. Then she gets a letter that tells her about having the chance to find out who her parents are that abandoned her as a baby. This sounds like a wonderful period piece of a book about a girl finding herself and using her voice for good, despite those who don't agree. I need this!
       2. Song of the Abyss (Tower of Winds #2) by Makiia Lucier (Expected release date: August 27th from HMH Teen)
This is a companion novel to Isle of Blood and Stone that came out last year and while I haven't read that book yet, both of these just sound super good. This one follows Reyna, whose the granddaughter of a famous navigator. She dreams of becoming a Master Explorer, but when raiders attack her ship, a mystery rises from the deep as she tries to escape. The sailors have vanished. She stops at nothing to find out what happened, even trusting a handsome prince from a rival kingdom. I'm ALL for a fun sea adventure with a mystery attached to it. I don't see many YA stories like this and I hope this is a new niche for me.
SEPTEMBER
1. Dear Haiti, Love Alaine by Maika Moulite & Maritza Moutlite (Expected release date: September 3rd from Inkyard Press)
I read a sample of this from a recent NetGalley sampler and this actually sounds like a sweet and great contemporary! We follow Alaine, who goes to Haiti for a spring service project work off being suspended from an "incident." I did see some mixed media from Alaine's school project and it sounds like there might be a romance with an intern there in Haiti with her and her discovering her heritage. I want to really boost own voices stories like this that are coming out more and I want to read more experiences like this so I'm excited for this.
2. The Ten Thousand Doors of January by Alix E. Harrow (Expected release date: September 10th from Redhook)
A historical fantasy?!! Ummm you read my mind! This book follows a girl named January who finds a strange book while she's at an estate, in which she's a ward for Mr. Locke. This book that she finds is very interesting and each page reveals shocking revelations about the world. This is described as a historical portal fantasy set around the 1900's and I AM HERE for this book. This debut novel has had major blurbs from authors like Tamora Pierce already which is very exciting. I'm so happy that historical fantasies are becoming more a definite sub-genre and I love the idea of this book showing different worlds and how it plays into this protagonist's destiny.
3. There Will Come a Darkness (There Will Come a Darkness #1) by Katy Rose Pool (Expected release date: September 10th from Henry Holt)
H—-E—L—-L—-O pretty cover! This cover came onto my radar recently while scrolling through Edelweiss and I read the synopsis and had to add it to this list! I'll leave the Goodreads synopsis right here so you can check it out. The Age of Darkness approaches.
Five lives stand in its way.
Who will stop it… or unleash it? 
For generations, the Seven Prophets guided humanity. Using their visions of the future, they ended wars and united nations―until the day, one hundred years ago, when the Prophets disappeared.
All they left behind was one final, secret prophecy, foretelling an Age of Darkness and the birth of a new Prophet who could be the world's salvation . . . or the cause of its destruction. As chaos takes hold, five souls are set on a collision course:
A prince exiled from his kingdom.
A ruthless killer known as the Pale Hand.
A once-faithful leader torn between his duty and his heart.
A reckless gambler with the power to find anything or anyone.
And a dying girl on the verge of giving up.
I like that this plays on a prophecy of the apocalypse for this world and the people that are tied to it. This sounds like this could spin some fun ideas and I hope it'll be another favorite book this year.
4. Kingdom of Souls by Rena Barron (Expected release date: September 10th from Harper Voyager)
WITCHDOCTORS?! IN A FANTASY BOOK? Why not! The witch doctor story isn't really used a lot except in video games, but this book sounds awesome. This book follows Arrah, who can't call upon her ancestral powers like she thought, which creates disapproval from her elders. So she tries to use a last resort to trade her life for scraps of magic. But then the Demon King is stirring and Arrah must pay the price to stop him before he consumes everything. This sounds like an epic adventure with witchy magic and I'm stoked!
5. The Lady Rogue by Jenn Bennett (Expected release date: September 10th from Simon Pulse)
Two things: this cover and Vlad the Impaler! People this book took my heart and held it in its hands! While I didn't love her contemporary Alex, Approximately, this historical adventure book is one I HAVE TO READ! We follow Theodora, whose father was a treasure hunter. She's read everything in his library about ancient relics and has the same ambition as her father. But she doesn't have his permission. Instead of her, her father's protege (and once upon a time love of Theodora's life) Huck Gallagher. But then Huck comes back from an expedition and enlists her help of rescuing her father. The reluctant duo learn that her father was trying to find a magical ring that once belonged to Vlad the Impaler, also known as Dracula. There's a secret society that will resort to murder, if necessary, to find this ring. SIGN ME UP PEOPLE! I've been fascinated with the history of Vlad the Impaler since I was very young. So I'm beyond happy that publishing somehow read my mind and that this is coming out soon. I have high expectations for this.
6. Tiger Queen by Annie Sullivan (Expected release date: September 10th from Blink)
This is a new standalone desert fantasy from the author of A Touch of Gold, which I really liked last year. This book is about a warrior Kateri who fights in the arena to prove her right to rule. Then a band of bandits steal what litter water her village has left. The punishment for stealing water is a choice between "two doors": one to freedom and the other to a tiger. Her next opponent in the ring is completely unexpected and her world is thrown upside down. This is based off a 1800's short story "The Lady, or the Tiger" which I haven't heard of. I'm confident this will be another fun adventure in the desert and I'm here for it.
7. The Bone Houses by Emily Lloyd-Jones (Expected release date: September 24th from Little Brown)
GIVE ME ALL THE GOTHIC BOOKS PEOPLE! This book is about a girl whose cares for her family and the family graveyard. But then the undead, called "Bone Houses" are rising from the ground. This is all I need to know and I'm here for it. The synopsis that's on Goodreads gives me slight Sabriel vibes with rising undead and yep…publishing is just speaking to my heart. I still need to read her previous book The Hearts We Sold which many of my blogger friends love. But man, September can't come soon enough.
8. The Tenth Girl by Sara Faring (Expected release date: September 24th from Imprint)
This book only came onto my radar since all the footage from BEA and BookCon started surfacing on my Twitter and I saw the author and her book all over my feed. I looked it up on Goodreads and immediately felt the hype burst within me. This is a debut novel taking place at an Argentinean finishing school where there's only 10 students. We follow Mavi, a Buenos Aires native who goes to this school to escape the military regime that killed her mother. But at this school, one of the girls is missing and there are warnings about not wandering around at night. Then some of the people at the school start to act as if possessed and there's a spirit that could hold the answers to everything. I've heard this book has quite the ending and this is all I've needed to be on board for this creepy debut novel. If you like creepy books like this, keep this on your radar for fall!
OCTOBER
1. Angel Mage by Garth Nix (Expected release date: October 1st from Katherine Tegen Books)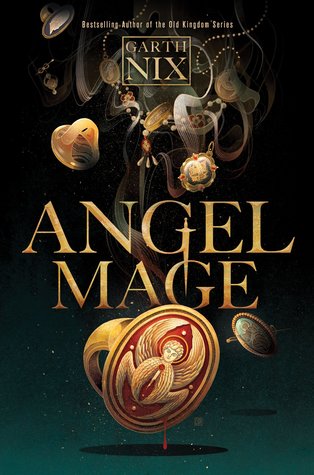 It's Garth Nix guys. Enough said! :p I've been a fan of his work for 17 years now and I'm DYING for this book! This kinda inspired by The Three Musketeers by Dumas and I did a whole blog post about this that also includes a Twitter link to a video of the author reading a sneak peek. I highly encourage you guys to keep this on your radar if you want a book about angelic magic and an epic adventure by an author who always creates awesome stories.
An Epic Waiting on Wednesday: Angel Mage + Fan Aesthetic Board
2. Firebourne (The Aurelian Cycle #1) by Rosaria Munda (Expected release date: October 15 2019 from G.P. Putnam)
Goodreads Synopsis: Annie and Lee were just children when a brutal revolution changed their world, giving everyone—even the lowborn—a chance to test into the governing class of dragonriders.
Now they are both rising stars in the new regime, despite backgrounds that couldn't be more different. Annie's lowborn family was executed by dragonfire, while Lee's aristocratic family was murdered by revolutionaries. Growing up in the same orphanage forged their friendship, and seven years of training have made them rivals for the top position in the dragonriding fleet.
But everything changes when survivors from the old regime surface, bent on reclaiming the city.
With war on the horizon and his relationship with Annie changing fast, Lee must choose to kill the only family he has left or to betray everything he's come to believe in. And Annie must decide whether to protect the boy she loves . . . or step up to be the champion her city needs.
This sounds like another amazing dragon book that I need in my life. I believe I really knew about this book when Penguin shared the cover reveal for this book. I haven't read a lot of books with dragons in them (yet) but I loved the dragons in The Last Namsara and that book made me realize how much I do like having dragons in my book. So if this sounds like your thing, it's out in October.
3. Gravemaidens (Gravemaidens #1) by Kelly Coon (Expected release date: October 29th from Delacorte Press)
I'm trying to make sure you guys don't forget about this book lol :p This is Kelly's debut novel and this is about Kammani, a healer whose sister is chosen to be one of three Death Maidens that will accompany the king to the afterlife. But Kammani sees this as a death sentence and not the high honor that everyone else thinks it is. So she'll stop at nothing to keep her sister from dying. The setting is also inspired by ancient Sumeria which is also really cool! Please keep your eyes out for this one and put it on your TBR!
4. The Light at the Bottom of the World #1 by London Shah (Expected release date: October 29th from Disney Hyperion)
ANOTHER STUNNING COVER GUYS! Publishers are really giving cover artists all the free reign to give us stunning masterpieces! This upcoming debut is about how life has moved to the bottom of the ocean. Sea creatures swim around what remains of London and humankind is both fearful and uncertain of the depths of the ocean, while also hoping that they can return to the surface one day. We follow Leyla who enters into a prestigious annual marathon and the winner will get a wish granted from the Prime Minister. She's entering this race to help clear her father's name, who has been arrested on false charges. But things start to go wrong as Leyla faces the unknown ocean and defy a corrupt government. I believe, from what I did read from the author on Twitter, that Leyla is a British Muslim just like she is which is great. I've been seeing lately that books that blend genres together is becoming another niche for me and this sounds like another future favorite.
NOVEMBER
1. The Starless Sea by Erin Morgenstern (Expected release date: November 5th from Doubleday Books)
Who isn't excited for this book??? Like seriously? It's been about 8 years since The Night Circus came out and we've all been wondering what Erin Morgenstern would write next. But come November her new book will be out in the world! I'll leave the Goodreads synopsis here: Zachary Ezra Rawlins is a graduate student in Vermont when he discovers a mysterious book hidden in the stacks. As he turns the pages, entranced by tales of lovelorn prisoners, key collectors, and nameless acolytes, he reads something strange: a story from his own childhood. Bewildered by this inexplicable book and desperate to make sense of how his own life came to be recorded, Zachary uncovers a series of clues–a bee, a key, and a sword–that lead him to a masquerade party in New York, to a secret club, and through a doorway to an ancient library, hidden far below the surface of the earth. What Zachary finds in this curious place is more than just a buried home for books and their guardians–it is a place of lost cities and seas, lovers who pass notes under doors and across time, and of stories whispered by the dead. Zachary learns of those who have sacrificed much to protect this realm, relinquishing their sight and their tongues to preserve this archive, and also those who are intent on its destruction. Together with Mirabel, a fierce, pink-haired protector of the place, and Dorian, a handsome, barefoot man with shifting alliances, Zachary travels the twisting tunnels, darkened stairwells, crowded ballrooms, and sweetly-soaked shores of this magical world, discovering his purpose–in both the mysterious book and in his own life.
2. Supernova (Renegades #3) by Marissa Meyer (Expected publication date: November 5th from Feiwel & Friends)
Since this is the final book in the series, I haven't look at the synopsis and I won't leave anything for book 3 here for those who haven't read the series or haven't read Archenemies yet like I have. But I was very surprised at how much I loved Renegades when I listened to it at the very end of 2018. I loved how Meyer shows the gray areas that superheroes and villains fall under and how Nova isn't entirely evil and that Adrian isn't completely good. I LOVE this final cover and I'm very excited to see how this trilogy plays out.
3. The Sky Weaver (Iskari #3) by Kristen Ciccarelli (Expected release date: November 12th from HarperTeen)
This is the third and final book in the Iskari companion trilogy! I loved The Last Namsara so so much last year, but I still have to read The Caged Queen. This final book follows a new character Safire, a soldier who serves the king of Firgaard. We also follow Eris, a deadly pirate whose also known as the Death Dancer for escaping dangerous situations. Both are sworn enemies, but they find themselves on a common mission to go after Asha, the Last Namsara. That's all I need to know! I love this world and the author's writing so much! I swear I'll finally catch up on this series before November lol.
4. Blood Heir #1 by Amelie Wen Zhao (Expected release date: November 19th from Delacorte Press)
THIS BOOK IS BACK! Earlier this year, this book suffered from a highly publicized and prickly controversy. It got so bad that the author cancelled the book's publication date for this coming June and until recently, we didn't know when it was coming out. But the author announced on her Instagram with a picture and this November release date. I'm glad that this author took time to work on the book again and also take some time away from the frank negative atmosphere. I definitely want to read the new version of this book and see what the story is all about.
5. Eight Will Fall by Sarah Harian (Expected release date: November 26th from Henry Holt)
This book came onto my radar after seeing the book and synopsis on Edelweiss. This book is about a land where magic is outlawed and eight criminals are led on a mission to kill an ancient evil that plagues the kingdom. This group is led by 17 year old Larkin and they descend into the underground where the horror awaits. They soon realize that they were sent on a suicide mission. I love darker fantasy books and this book is one that I haven't seen anyone talking about! So if you like a group of people going on an impossible mission with a creepy plot line, keep your eyes out for this book later in the year.
6. Starsight (Skyward #2) by Brandon Sanderson (Expected release date: November 26th from Delacorte Press)
WOHOO STARSIGHT! This book is among my TOP 5 books of the ENTIRE year that I'm dying to read! I thought that this had been moved to December, but according to Amazon on Goodreads, it says November 26th and I hope it doesn't change. This is the second book Skyward which was my favorite book of last year. This will continue Spensa's story after the events of book one and I can't recommend this series enough if you love sci-fi, and the trope of "a girl and her space ship" story. You bet your bottom dollar I'm gonna pre-order the audio book and the final print version and dance with joy when it comes 😀
What are you looking forward to for the rest of the year? Do you see any new books on this list that you didn't know about? What books on this list are you highly anticipating?