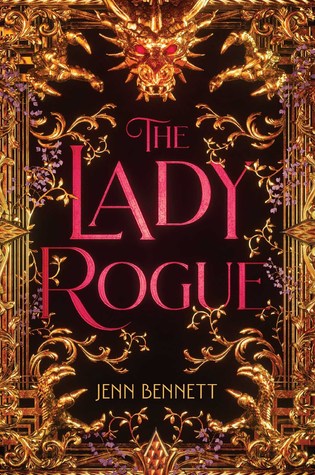 Title: The Lady Rogue
Author: Jenn Bennett
Genre: YA Historical Fiction/Fantasy
Release Date: September 3rd 2019 from Simon Pulse
Format: Kindle ARC
Goodreads Synopsis: The Last Magician meets A Gentleman's Guide to Vice and Virtue in this thrilling tale filled with magic and set in the mysterious Carpathian Mountains where a girl must hunt down Vlad the Impaler's cursed ring in order to save her father.
Some legends never die…
Traveling with her treasure-hunting father has always been a dream for Theodora. She's read every book in his library, has an impressive knowledge of the world's most sought-after relics, and has all the ambition in the world. What she doesn't have is her father's permission. That honor goes to her father's nineteen-year-old protégé—and once-upon-a-time love of Theodora's life—Huck Gallagher, while Theodora is left to sit alone in her hotel in Istanbul.
Until Huck arrives from an expedition without her father and enlists Theodora's help in rescuing him. Armed with her father's travel journal, the reluctant duo learns that her father had been digging up information on a legendary and magical ring that once belonged to Vlad the Impaler—more widely known as Dracula—and that it just might be the key to finding him.
Journeying into Romania, Theodora and Huck embark on a captivating adventure through Gothic villages and dark castles in the misty Carpathian Mountains to recover the notorious ring. But they aren't the only ones who are searching for it. A secretive and dangerous occult society with a powerful link to Vlad the Impaler himself is hunting for it, too. And they will go to any lengths—including murder—to possess it.
**I was contacted by a wonderful publicist who reached out to read an ARC of this book in exchange for a free and honest review. A HUGE thank you to the wonderful publicist for reaching out to me and NetGalley for the review copy. All thoughts and opinions are my own and no quotations will be used**
This book was such a surprise for me and MAN THIS BOOK STOLE MY HEART! Also, I NEED a piece of jewelry with that stunning dragon head on the cover. This cover is easily one of my TOP favorite of the entire year. I read the synopsis of this book a while back and I just knew that I had to try it. Then once I started this book, I began a journey and this is easily a favorite this year. This book stole my heart and this is a book I've always wanted, since I've been fascinated with Vlad the Impaler since I was young. This book gave me slight vibes of the adult novel The Historian by Elizabeth Kostova with how that book also delved into Vlad's history and toys with the possibility of the occult.
The first thing I loved about this book is the Eastern European setting! We see Istanbul, Romania, Bucharest, the Carpathian mountains and mentions of many other places as well as the languages of those regions. I don't ever see countries like this in YA and it was such a breath of fresh air to learn some Romanian mythology, the culture, the people and just seeing another part of the book in a YA novel. I think Jenn Bennett researched this book so well and I could feel that as we followed Theodora who tries to find her missing father. Granted, with being historical fiction, some things aren't completely accurate but this was such a well crafted story. I loved learning things about this region of the world, as well as getting that sense of dread with dark magic and evil occultists.
The second thing I loved about the story was Theodora as a character. Her father, Richard Fox is a famous treasure hunter whose traveled the world. But since her Romanian mother died, they have a complicated relationship and her father definitely doesn't like talking to his daughter honestly about tough subjects. He often leaves her in hotels while he and his protégé (and Theo's previous love of her life) Huck go on all the adventures. Theo is so smart and brave and knowledgeable which made me root for her! She knows so much about famous relics, history of the area and even several languages and you are frustrated with her when she's sidelined all the time. But as we follow her trying to find her father, she wrestles with her complicated feelings about both Huck and her dad. She's so angry at her dad with leaving her, not talking to her or just being there for her.  But she does grow and I liked seeing how she comes to terms with her feelings. Her interactions with Huck also felt so realistic, with both of them being very passionate and stubborn people. Also, her fascination with crossword puzzles was a nice little personality touch that made her voice unique.
The third thing I loved was the atmosphere this book gave me! I got some vibes of Indiana Jones and Dracula and also the cold of the mountains, the uncertainty of nature, the sense of dread with the dark men following the characters and the building uncertainty if dark magic is real. The author really immerses you into the dusty streets, lonely stations, cold nights and the building sense of dread and fear of facing such a dark enemy that's a complete mystery. The history of Vlad the Imapler and the countries were rich and really came to life with the writing style. I felt like the characters did with feeling like they were being followed and feeling so lost about what to do. I liked that sense of feeling lost and confusion as the game keeps getting darker and much harder to get out.
The final thing I loved and want to highlight is the chemistry between Theo and Huck! Huck is an Irish boy who was taken in by Theo's father and kinda grew up with them in America due to his parents dying in an automobile accident. But their feelings for each other are complicated, since Huck went away without a word after him and Theo had a night together. Both feel uncertain of their feelings, since they didn't talk much into Huck comes to find Theo in Istanbul and her dad is missing. It can appear frustrated with how they don't genuinely talk about their feeling and have all kinds of assumptions at first, as well as fighting a lot. But both are very passionate and stubborn personalities and similar personalities can clash a lot. But as they do figure their feelings out, I think their honest moments were genuine and I think their relationship progressed naturally. It was also interesting that this book didn't have the kind of sexy time like her contemporaries do, which is different, but I think the absence of it worked. This book was really about Theo finding her father, while also figuring out her complicated feelings and finally feeling important.
The only tiny con that I have is that I wish the action climax scene did last a bit longer. It was a little rushed, but other than that, this book was perfect for me! This gave the Vlad the Imapler vibes and the light historical fantasy I keep craving. I really appreciate so much of this book and I didn't want to stop reading it whenever I picked it up. If you love historical books, great chemistry between characters and the perfect balance of adventure and hints of dark magic, please check this book out! I NEED another book just to get more of these characters and more treasure hunting adventures!
Rating:
.5 stars
Have you read this book? Are you also excited for it? Do you know of books similar to this that you would recommend? Let me know in the comments!