Happy Wednesday everyone! I hope your month has been great, as well as your week! Today, I'm sharing my next installment of the Anticipated Releases Check in, which I did a few months back for the beginning of 2019. You can see my previous installment right here.
JULY
The Merciful Crow #1 by Margaret Owen
⊗Permanent DNF⊗
Yeah, this book was a major bummer to me. I couldn't gel with the writing style at all; when I tried to read it out loud to make more sense of it, the writing just sounds weird when read aloud. I also felt like the "being a feisty" protagonist felt like it was too much in the beginning? It just didn't pull me in, so I simply gave up. The cover is stunning though.
AUGUST
The Downstairs Girl by Stacey Lee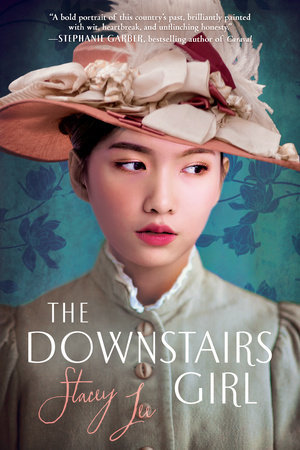 ♦STILL ON TBR♦
I simply haven't gotten to this yet due to my ARC pile. It's as simple as that. I have forgotten about this book, since I've had other pressing ones on my mind. But I still want to get to this! My library has the physical book and the audio book, so whenever I'm ready, I can dive into it in either format. I haven't been seeing a ton of reviews on this yet, but I trust it will be a great historical read.
 2. Song of the Abyss (Tower of Winds #2) by Makiia Lucier 
-DNF (for now)-
I only DNF'd this book because even though both the author and the publisher have said you can read this separately from the first book Isle of Blood and Stone, I personally didn't agree with that assurance. I got this book for a blog tour and I just couldn't get very far. I feel like important things, like the main character's personality traits were already established in the previous book and some of the plot referenced stuff from the first book so I felt lost. So I will read the first book and then come back to this one. Hopefully I don't have this same result from the other companion novels I want to read in different series.
SEPTEMBER
1. Dear Haiti, Love Alaine by Maika Moulite & Maritza Moutlite 
♦STILL ON TBR♦
I'll admit that since I've seen some mixed reviews on this book, it isn't high on my TBR pile once I finish all my ARCs. I still want to read it, but since it hasn't really been calling to me from the pile of stuff I want to read, I'll get to it eventually.
2. The Ten Thousand Doors of January by Alix E. Harrow
⊗DNF, maybe for now?⊗
I was SO excited to read this, but it just let me down. This is a portal fantasy and I had the thought that the main character would be actually going to these portal worlds? But instead she just reads a book about them? Granted, that was only the 30% I did read before I gave up, so I'm not sure if that changes. But plot wise, most of it was boring. It does tackle topics like racism and other things since the protagonist is racially ambiguous. But I also didn't connect with the writing anymore either; it's trying to be purple prose but after a while, it didn't work for me. I possibly might try the audio book in the future, since I adore the narrator, but that's a definite maybe.
3. There Will Come a Darkness (There Will Come a Darkness #1) by Katy Rose Pool
♥READ, 3 STARS♥
I did finish this one at the end of August and I liked it but didn't love it. I think this book did some fun things with the "prophecy" trope that can be popular in fantasy books. The beginning chapter was great and at times, the nearly gloomy atmosphere of the book reminded me a bit of Mistborn. I'll read the next one, but it's not a few favorite for me.
4. Kingdom of Souls by Rena Barron 
♦Still on TBR♦
This is another book I still want to read. While I haven't seen many reviews, some have said that the book is too long and slow in parts. But my library does have the audio book, so when I'm ready to listen to this, I have access to it.
5. The Lady Rogue by Jenn Bennett 
♥4.5 stars, new favorite♥
This book stole my heart and whenever I look at it, I just feel so happy that I loved this! This book is perfect for the Halloween/Fall season due to the amazing atmosphere of Eastern Europe as Theodora and Huck have their adventure. I loved all the lore of Vlad the Impaler, the romantic tension and all the historical fantasy bits I love. This was one of those cases where I had to keep reading when I picked it up and didn't want to put it down. If you love her contemporary books, please try this one! I think her research was spot on and I loved learning a bit more about Eastern Europe. Totally a new favorite.
6. Tiger Queen by Annie Sullivan 
♥Read, 2 stars…♥
Yep, this one hurts guys. Since I really liked her debut novel, I was optimistic about this desert fantasy standalone book. It's about a girl who fights in the arena for her freedom. Sounds good right? Well, as soon as I read the first chapter, I knew I was in trouble. The writing really felt like a step back from her debut and I felt like the protagonist felt too inconsistent to care for. Plus, it was too predictable that it never offered any fun despite its boring plot. Another bummer 😦
7. The Bone Houses by Emily Lloyd-Jones 
♥Read, 5 stars! All time favorite♥
Oh yes, I love this book so much! Every time I turned on my Kindle, I was transported back to this Welsh inspired fantasy world, following a gravedigger and a mapmaker who set off to find out why the dead rise. Plus, there's a loyal and cutely stubborn goat companion. But yeah this book really took me to a different place and really helped me love reading since I've slightly slumpy in the later half of this year. It's also a perfect book for this time of year with all the rising undead, magic and also fantastic characters you can't miss out on! 🙂
8. The Tenth Girl by Sara Faring 
⊗Permanent DNF⊗
I really wanted to like this book, despite the plethora of polarizing reviews, but it didn't happen. While the prologue was super strong and the first chapter was good, the second POV just killed everything. This book just threw me off guard and it was hard to follow exactly what was going on. The writing felt like it was being confusing on purpose and when I decided I was tired of the book, I skipped to the twist ending. I give the author creative points for what the twist was, but that didn't motivate me to go back and keep reading. So, I'm sad that another hyped book didn't work out for me. But, oh well…
FINAL STATS
Number of books: 11
Number of books read (includes dnfs): 8/11 or 72%
Number of books still on TBR: 3/11 or 27%
Number of books removed from TBR: 0/11 or 0%
This is a much better round this time lol! Hopefully I can keep this up for the final installment. What do you think of these books? Do you feel the same as me? Let me know in the comments!