Hey guys! Let me begin by saying that I don't want another long car drive for a while. I got back from vacation recently and had so much fun! So this book haul is cumulative with from books from about July/August and September. I'm hoping to really restrict myself from buying much since the holidays are approaching soon. So here's what I got recently! You might have seen some of these from reviews or possible mentions of them, but all of these are: purchased books, library books and Audible purchases 🙂 I do also apologize if the picture quality is slightly blurry; I use my phone to take the pictures.
Physical Books
Under a Painted Sky by Stacey Lee: An acclaimed historical fiction about two girls, a Chinese and an African American girl, set out on a journey while being on the run. I've heard amazing things about her books and found it for a steal.
The Bear and the Nightingale #1 by Katherine Arden: This has made the rounds on Booktube a couple times and Goodreads. I started listening to the audio book from my library, but I was having a hard time paying attention with the narrator's quiet voice. So I decided to pick up a copy. With what I've heard, the writing is beautiful and a great winter setting.
In the Shadow of Blackbirds by Cat Winters: I gushed about this book not too long ago; I've read 2 books by her now and love them. Her debut novel is set in 1918 at the height of the mass panic surrounding the flu that killed millions. Through superantural events and spirit photography, Mary Shelley tries to learn what happened to Stephen, the boy she loves. It's creepy, full of historical pictures and amazing writing! A future post about Cat Winters is coming soon 🙂
Odd & True by Cat Winters: This is her newest release about two sisters who believe they're descendants of monster hunters and go off to find the Leeds Devil in New Jersey. Both Cat Winters books are signed, and more info soon.
Even the Darkest Stars #1 by Heather Fawcett: I bought this book the day it came out. A fantasy novel inspired by the Himalayas? Sign me up! The author is also very nice on Twitter and loved seeing her passion for this book. It centers around a girl who ends up going on a perilous mountain journey, with supernatural creatures and other things coming her way…
The Rattled Bones by S.M. Parker: Currently, this book has a 4.3 rating on Goodreads and a 4.9 on Amazon. It's about a girl named Rilla, whose grown up on the sea and the ships of Maine. But after her father's death, she becomes entwined with a ghost, the line between reality and madness blurs as this ghost holds even more secrets. I saw the radiant reviews right when it came out and I had to buy it. Plus, that cover is just stunning in person. No pictures do it justice.
What to Say Next by Julie Buxbaum (Signed Copy): This was an impulse buy at the store a couple months ago. It's about a girl and a boy who meet and help each other out with the tough trials in their life. I've heard amazing things about the two YA novels she's written, especially from Booktubers who aren't flexible with their ratings. Plus, who doesn't love teal on a cover?
The Last Magician #1 by Lisa Maxwell: This first book in a planned duology has been getting more attention on Booktube which is cool. It's the story of a girl named Esta who has to steal a book from a magician to save the future. It sounds like an awesome urban fantasy story. Plus, does the cover remind anyone of the medallion from Neverending Story?
Warcross #1 by Marie Lu (Library Book): This hot new release is on many, many peoples radar. This will be my official first book I've read by her; I did get to read the first 3 chapters a few months ago and it was addicting. A duology around gaming? Yes please. I've also heard that you get some Sword Art Online vibes and I love the anime. Why can't there be more time to read?
Before She Ignites #1 by Jodi Meadows: The first book a trilogy tells the story of a girl named Mira, who goes to prison for breaking a treaty. There's politics and dragon smuggling as well. An amazing Booktuber Francina Simone did a great review on this book, talking about the aspects of the novel. Plus, the author is the sweetest person on Twitter. This will be my first book by her and I'm SO stoked!
Audible Purchases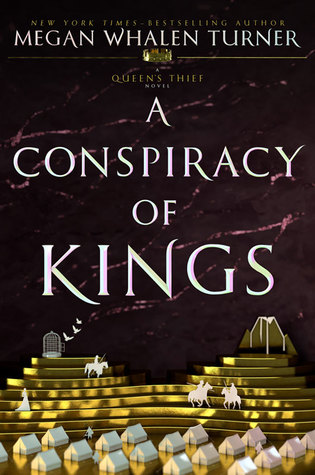 Bound By Blood and Sand #1 by Becky Allen: The main reason I got this audio book is because it's narrated by January LaVoy, whose amazing at doing the Diviners series, so I figured "why not?" It's a desert themed fantasy about a girl who wants revenge, but has to obey every order given to her as she tries to find a new source of water.
A Conspiracy of Kings and Thick as Thieves (Queen's Thief #4 and $5) by Megan Whalen Turner: It's Steve West narrating this well loved fantasy series so this was a duh! This series is very clever, political and interesting characters. Hoping to get caught up by the end of the year!
The Secret History of Us by Jessi Kirby: The plot of this book about a girl who wakes up and doesn't remember anything from the last four years and the secrets that come as she tries to remember sounded cool. A few people gave this good reviews, so I went ahead and got it. Fingers crossed it's good.
The Reluctant Queen (Queens of Renthia #2) by Sarah Beth Durst: This sequel to The Queen of Blood was a minor anticipated release at the beginning of the year. This world of people living in the forest canopies and ruthless elemental spirits was really fun and refreshing. Plus, Khristine Hvam is an amazing narrator, so this was needed. It's also that the main character in this book is an older woman with children which sounds rare for fantasy. Another one I hope to finish by the end of the year 🙂
I hope you guys enjoyed this haul! I technically hadn't done one since April. I'm excited for all of these and I keep hoping I can not be busy for a few days so I can catch up to them. Have you read any of these? What books have you bought recently? What books do you want to finish by the end of the year?