Here we are! It's time to get the next Ember books reviewed. For Torch, I didn't re-read this book before the third book came out, since so much of it was so fresh in my mind. So I'll be using my previous thoughts when I first listened to it in the review and then my thoughts on Reaper will be my thoughts once I finish it 🙂 *NOTE: I will warn you guys now that there will be minor to major spoilers for the first book, so if you aren't caught up, DON'T read any of this post. I will try to be as spoiler free as possible with Reaper, but it will spoil the plot of Torch so be warned as well.*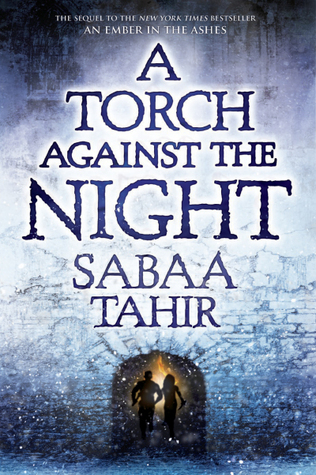 Title: A Torch Against the Night (Ember Quartet #2)
Author: Sabaa Tahir
Genre: YA Fantasy
Release Date: August 30th 2016 from Razorbill
Narrators: Steve West, Fiona Hardingham and Katherine McEwan
Listening Time: 15 hours, 9 mins
Original Listen: August 30th 2016- September 20th 2016 (Tentative)
Goodreads Synopsis: Elias and Laia are running for their lives. After the events of the Fourth Trial, Martial soldiers hunt the two fugitives as they flee the city of Serra and undertake a perilous journey through the heart of the Empire.
Laia is determined to break into Kauf—the Empire's most secure and dangerous prison—to save her brother, who is the key to the Scholars' survival. And Elias is determined to help Laia succeed, even if it means giving up his last chance at freedom.
But dark forces, human and otherworldly, work against Laia and Elias. The pair must fight every step of the way to outsmart their enemies: the bloodthirsty Emperor Marcus, the merciless Commandant, the sadistic Warden of Kauf, and, most heartbreaking of all, Helene—Elias's former friend and the Empire's newest Blood Shrike.
Bound to Marcus's will, Helene faces a torturous mission of her own—one that might destroy her: find the traitor Elias Veturius and the Scholar slave who helped him escape…and kill them both.
I listened to this audio book right when it came out in 2016. I had met Tahir while on vacation and I was beyond excited to listen to this book. I stayed up past midnight several times trying to finish this book and I remember shedding a few tears of fear and sadness by the end. Here's the breakdown:
PROS
Expand the World: People have complained that the first book didn't explore the world enough, but this one does with Laia and Elias traveling to Kauf. We see the Tribe Elias grew up with, as well as a few villages. It's an interesting contrast between how the scholars and martials live. You also start getting peeks at what the supernatural side is like as you learn about characters and their intentions.
New POV: When we all heard that Helene was going to be a POV in this book, we were all stoked and for good reason. Helene appeared kinda heartless towards the scholars in book one, but her care for Elias was fierce as you see their trials as well learn of their history. But in this one, you see her vulnerability as she tries to protect her family and get used to her position as Blood Shrike. I loved seeing her pain and her trying to adapt to her new environment; the ending made me cry and my heart broke for her.
Kauf Prison: Blackcliff has nothing on this place! Sabaa Tahir took us to a dark place like Kauf prison and a disgusting enemy like the Warden, who probably worse than the Commandant. This place, with the torture, inmates and the Warden takes us to a dark place most YA books don't go. I remember being frozen, listening to those chapters intently.
Narrators: As always, Steve West and Fiona Hardingham are amazing as Laia and Elias. Katherine McEwan who is Helene is equally amazing. Her strength was bringing out the pain and frustration Helene feels as she tries to find her place and navigate her feelings as things change…and get worse. Steve West is still my ultimate favorite; he IS Elias to me and I can picture no one else being him.
Shocking Ending: The major things that happened at the end have stayed with me these couple years later. This shocking ending reminds me in ways of Mistborn, with all of that series's shocks, twists and devastation. These three people lose and endure so much that I had no idea upon finishing it where book three would go. I still applaud the author for giving us a truly shocking turn.
CONS
Overall: This sequel was perfect in every way and still is to this day. With the world expanded, plot growing, devastation at many turns and a new great POV, I was happy and also sad when it was over. There were things I didn't see coming and it easily set up for what's to come in book three.
Rating: 
♦♦♦♦
Title: A Reaper at the Gates (Ember Quartet #3)
Author: Sabaa Tahir
Genre: YA Fantasy
Release Date: June 12th 2018 from Razorbill
Narrators: Steve West, Fiona Hardingham, Katherine McEwan and Maxwell Caulfield
Listening Time: 15 hours, 29 mins
Goodreads Synopsis: Beyond the Empire and within it, the threat of war looms ever larger.
The Blood Shrike, Helene Aquilla, is assailed on all sides. Emperor Marcus, haunted by his past, grows increasingly unstable, while the Commandant capitalizes on his madness to bolster her own power. As Helene searches for a way to hold back the approaching darkness, her sister's life and the lives of all those in the Empire hang in the balance.
Far to the east, Laia of Serra knows the fate of the world lies not in the machinations of the Martial court, but in stopping the Nightbringer. But while hunting for a way to bring him down, Laia faces unexpected threats from those she hoped would aid her, and is drawn into a battle she never thought she'd have to fight.
And in the land between the living and the dead, Elias Veturius has given up his freedom to serve as Soul Catcher. But in doing so, he has vowed himself to an ancient power that will stop at nothing to ensure Elias's devotion–even at the cost of his humanity.
It is done! I finished this audio book just today and I feel a lot of things. And I'll be honest: I didn't like this book quite as much as the first two. But it does ultimately set up the final book is a great way and there's quite some awesome surprises inside. Here's the breakdown:
PROS
Answers: To put it simply, you do get questions answered as you would hope to happen, being it's the second to last book in the series. I'm satisfied with the answers you do get and I did have a theory being correct. These answers help close a few things but continue building up the coming final book in a great way. If you're skeptical about answers, don't worry too much.
Elias POV: Elias had my favorite chapters all the way through the book! His character arc, along with dealing with all the supernatural stuff from the previous book was fascinating. He goes through the ringer in this book, but he shines through so much for it. He's now my favorite character of the main three and Steve West is truly Elias 😀
Laia Grows More: As would be expected, Laia also goes through more in this book and I can't wait to see where she will go in the last book. While parts of her chapters did drag, and she had a couple frustrating moments. But her overall strength and courage that builds in every book has been awesome to listen to. Her relationships with a couple certain characters were the highlights for me.
Romance: Holy burning romance Batman! The romance in this book is amazing and makes me feel things. I used to ship Helene/Elias but not anymore lol. I'm totally Elias/Laia and I loved every minute of it 😀
Side Characters: There were a few surprising moments side characters had to build and shape them more. Some of my favorite got some amazing moments, both emotional or just plain surprising. Some play more of a role than I thought. But overall, I'm glad some got the spotlight they deserved.
Bonus POV: Every week before this book came out, the author shared Reaper stuff on Twitter and one of them is that we get a 4th POV! Trust me, it's the best and worth waiting for. I won't say anything else but it gave the story so much more awesomeness.
Final Sections: Out of the 5 sections total, the last 2 sections is where things come to a head and give us a colossal ending to set up the final book. Things, for me, balanced out much more and the way things end was a pleasant surprise; it felt clever and a nice change from the endings of the previous two books.
CONS
Helene's POV: Ok, here's where my first problem comes in. I found a lot of Helene's chapters to be frustrating for a couple reasons. Helene doesn't really feel like Helene for so much of this book. Sure, the trauma she went through in Torch was crazy, but she keeps getting distracted from her tasks and then complains that she didn't accomplish what she wanted afterwards. She has stuff that worries her in this one, but I know she's capable of much more cunning and getting her head together, like she did in the first two. She shows her weakness WAY too much in this book and it didn't need to be that way. She got better at the end for me, but for a good long while, I was annoyed.
Content WARNING: So with three books of this series done now, I don't recommend this series to readers younger than 16. There is content in this book that is dark and disturbing that border lined adult fantasy to me. I respect that it's well done and gets emotion out of you, but I think some younger readers or people sensitive to certain subjects could get upset. I even had to take a break the other day because the darkness in this book messed with me which never happens. I personally don't enjoy that stuff.
Some Plot Details: I feel like I saw a bit of a silly thing happening with the bad guys getting what they wanted too easily. The Emperor never actually used his power of his throne to get more sway. How does someone whose only about 19 and clearly insane not be assassinated and more civil war break out? That wasn't really addressed. There was mention in Torch that with the Emperor taking the throne is that the other families would try to assassinate him, since he's a Plebian (more lower class). That threat of more politics would strengthened the chapters in the Empire.
Also, with the bad guys getting too much of what they wanted with no problem bugged me. There     was way too much failure on the good guys part that made sense. I get that things can get scary and you don't know how to handle certain things, but they some characters could've used their heads more and stop complaining.
Overall: I did enjoy so much of this book and I do like where so much of this went and how it sets up the last book. But these few plot holes and other cons make this book my least favorite compared to the other two, even though it's not a huge drop.
Rating: Between 4 to 4.5 
Have you caught up on this series? If so, how do you like Reaper? Who is your favorite character? How excited are you for the last book?